Historical Results
1 results for Zinkan; Chris [21st century] ~ Canadian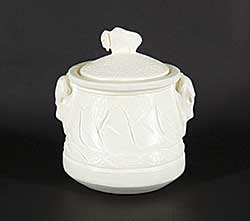 Lot #79
Artist Chris Zinkan
Title Buffalo Return #2
Media glazed ceramic pot with lid
Dated 2020
Size 8.25 x 7.5 x 7 in. / 21 x 19 x 17.8 cm.
Notes
ESTIMATED RETAIL VALUE $150 - signed with initials and dated on bottom
Reference
PLEASE NOTE: This lot was sold in an online benefit auction where all proceeds went to the Whyte Museum in Banff, Alberta and there was no Buyer's Premium.; according to the artist: This earthen ware jar features buffalo motifs and a stylized landscape of the Three Sisters Mountain as viewed from Canmore with rolling foothills. This is one of a series of pieces completed in 2020 inspired by the return of the buffalo to the Banff corridor.
Provenance
Generously donated by Chris Zinkan; represented by The Edge Gallery, Canmore, see website at edgegallery.ca
Estimate CAD$75-$150