Historical Results
1 results for Thorneycroft; Diana [b.1956] ~ Canadian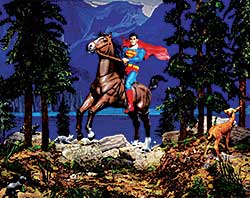 Lot #123
Artist Diana Thorneycroft
Title Lake O'Hara [Clark, Northern Dancer and the Evil Weasel] #8/20
Media colour photograph on paper
Size 23.25 x 29.5 in. / 59.1 x 74.9 cm.
Notes
ESTIMATED RETAIL VALUE $3,000 - signed, titled, dated and numbered on label attached verso; framed with archival mat
Reference
PLEASE NOTE: This lot was sold in an online benefit auction where all proceeds went to the Whyte Museum in Banff, Alberta and there was no Buyer's Premium.; Diana Thorneycroft created several photographic series that explore cultural issues from the humourous to the political through painstakingly-constructed dioramas using famous landscape paintings as backdrops for action figures and other toys to provide a narrative that often belies the playfulness of the materials. This small-edition piece is part of a series titled 'Canadians and Americans [best friends forever[struck out] - it's complicated]' Based in Winnipeg, Diana shows her ever-evolving work nationally and internationally, and has pieces in many museum collections.
Provenance
Generously donated by Diana Thorneycroft, see website at dianathorneycroft.com ; represented by Christine Klassen Gallery, Calgary, see website at christineklassengallery.com and others
Estimate CAD$1,500-$3,000

Sold
CAD $2,200
2021/06/13