Historical Results
2 results for Elliott; Winston [1924-2020] ~ Canadian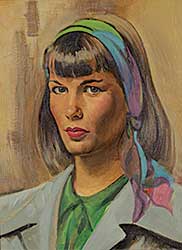 Lot #1080
Artist Winston Elliott
Title Untitled - Portrait of Joyce
Media oil on wood board
Size 15.75 x 12 in. / 40 x 30.5 cm.
Notes
unsigned; bears artist's name verso; framed
Provenance
gift from the artist; from the estates of John and Grace Davenall Turner / Joyce Davenall Turner
Estimate CAD$250-$350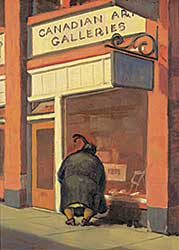 Lot #18
Artist Winston Elliott
Title Canadian Art Galleries
Media oil on wood panel
Dated ca. 1947
Size 16 x 11.75 in. / 40.6 x 29.8 cm.
Notes
signed verso; bears date on label verso; framed
Reference
illustrated on page 108 of Sunfield Painter, The Reminiscences of John Davenall Turner, published by The University of Alberta Press, Edmonton, 1982; check out this youtube video by Miles Walker which includes views from the exhibition of his work at the West Vancouver Museum https://www.youtube.com/watch?v=umFB8ysXRDg
Provenance
from the estates of John and Grace Davenall Turner / Joyce Davenall Turner, Calgary
Estimate CAD$1,000-$2,000

Sold
CAD $4,973
2020/11/01