1. Sign Up
If you are new to Levis Auctions, please click on SIGN UP to create an account. A current Visa or Mastercard will be required. When you submit your information, an automatic 1$ charge is made that verifies the legitimacy of your card. [This charge will disappear from your credit card account within 1 to 5 business days, depending on your banking institution.]

Once your credit card information has been verified, you will receive an e-mail almost immediately with a 4-6 digit paddle number. This 4-6 digit paddle number does not change and stays with you for every auction. You are now able to place bids in any auction. By signing up, you are agreeing to our Terms and Conditions - read them here. If you don't receive an e-mail with your paddle number right away, check your spam folder to see if it has been rerouted there.

 2. Already Have an Account?
LOG IN

If you have a 4-6 digit paddle number from one of our previous auctions, you have previously signed up and have an account with us. Simply LOG IN and you are ready to bid in any auction. If you have forgotten your paddle number or password, no problem. Submit a request to retrieve your information here. Unsure if you have an account? Contact the office at 403.541.9099 to check.
If you can't remember your password, please reset it below:
RESET PASSWORD

3. Explore the Member Area
When you LOG IN you are directed to the secure Member Area. Here you can view your current bids, watch lots of interest, review your prior purchases, and access your account profile. You can return to this area from any other page in the Member Area by clicking on MY ACCOUNT. Any time you have clicked on VIEW AUCTION, you return to the Member Area by clicking on MEMBERS in the main menu.
Please note: The MY ARTISTS feature is not yet functional. In the future you will be able to follow specific artists, request notification when the work of a specific artist is coming up for auction and search the historical results of artists previously offered at LEVIS.

Watched Items
Clicking on MY BIDS & WATCHED ITEMS brings up a page that shows lots where you are the highest bidder, lots that you are watching, and lots where you've been outbid. It is the place to conveniently monitor all your activity during an auction.
My Bids
MY BIDS are the lots you are currently bidding on. Whenever you are an active bidder on a lot, you will receive notification as soon as you have been outbid on that lot.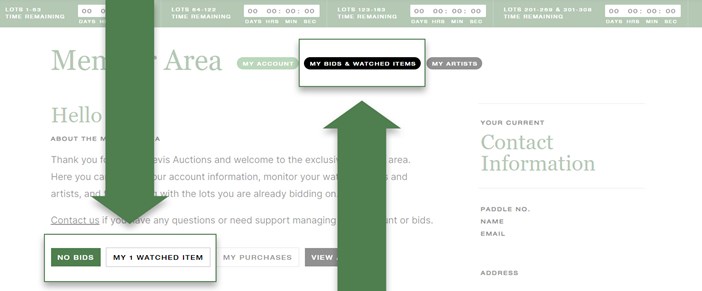 A Watched Item is a lot whose progress you would like to follow, but are not ready to bid on. Click WATCH ITEM at any time to add a lot to your list. To remove a lot from this list simply click the WATCH ITEM button again. Please note: you will not receive notification of the bidding action on the lots in your Watched Items list. It is intended only as a convenient place to view items you are interested in while you are on our website.
The Member Area main page also shows your current contact information. Click on UPDATE ACCOUNT to change information on your account as necessary: your password, email address, current credit card, mailing address, phone number etc.
4. What is an Auto bid?
An auto bid is a confidential maximum bid that you set up in the background of our auction software. You decide the amount of your auto bid and that information is not shared with any other bidders. You can change your auto bid at any time.
When you enter an auto bid it sets the program so it can bid on your behalf ONLY if someone else bids against you and only up to your maximum dollar amount. It continues to place the next bid increment until you have been outbid. You will receive notification that you have been outbid as soon as another bidder has reached or surpassed your maximum. If you are currently the top bidder, you can increase your auto bid and you will not bid against yourself.
Using an auto bid is a safe and secure way to participate in an auction if you are on vacation, have unreliable internet services, or are not available to monitor the last minute action of the auction as it closes.
5. Auto bid Sequence
Bidding sequence is the pattern of bids the system submits on your behalf up to your maximum. For example, if your first bid is $50 and the increments are $5, your bidding sequence would be:
$50 / $60 / $70 / $80
This is because the opposing bidder's sequence would be:
$55 / $65 / $75 / $85
The bids MUST alternate back and forth between you and another bidder at all times, which maintains the bid sequence. [Please note: The amount bid on your behalf in the bidding sequence depends upon standard increments. These increments increase as the value of the item increases. Refer to the table of bidding increments shown here.]
When placing an auto bid either from the drop-down menu or by typing it in, the system ensures that your bid always alternates with another bidder. By maintaining the bidding sequence, the system ensures that you will not bid against yourself at any time. Even if you are currently the top bidder and you want to increase your auto bid - you will not bid against yourself. If you try to set up an auto-bid out of the alternating sequence, the system will not accept the bid but will suggest the one bid higher, or the one bid lower, that maintains the alternating sequence. This also eliminates the possibility of multiple bidders entering the same maximum auto bid.
UNDERSTANDING
Basic Bidding Increments
$1-$49 ............................. $1
$50-$99 ........................... $5
$100-$249 ....................... $10
$250-$499 ....................... $25
$500-$999 ....................... $50
$1,000-$2,499 ................. $100
$2,500-$4,999 ................. $250
$5,000-$9,999 ................. $500
$10,000-$24,999 ............. $1,000
$25,000-$49,999 ............. $2,500
$50,000-$99,999 ............. $5,000
$100,000-$249,999 ......... $10,000
$250,000-$499,999 ......... $25,000
$500,000-$999,999 ......... $50,000
$1,000,000+ ..................... $100,000

6. Day of Auction Close
For the November 20 - December 2 Auction, the auction will begin to close with staggered closing times on Saturday, December 2 as follows:

ARTISTS A – C / Lots 1001 – 1084 start closing at 1PM
ARTISTS D – G / Lots 1085 – 1167 start closing at 130PM
ARTISTS H – L / Lots 1168 – 1255 start closing at 2PM
ARTISTS M – Sc / Lots 1256 – 1340 start closing at 230PM
ARTISTS Se – Z / Lots 1341 – 1431 starting closing at 3PM

7. How does the Auction Close?
Our auctions have a "soft close". This means they do not close immediately.
There is an automatic 120 second bidding extension, for the entire auction session, if a bid is submitted on any lot within the last 60 seconds on the bidding clock.
These time extensions will continue to occur until there is a 60 second period during which no bidding takes place on any lot in the current session.
It is a common practice for online auctions to employ this type of bidding extension (or "soft close") to ensure fair bidding for all parties. It is not unusual for these extensions to continue for a half an hour or more during an auction close. We have had sessions close within a few minutes and also up to two hours after the soft close begins. Please take this into consideration when bidding on the last day of the auction or when deciding whether or not to place an auto bid.
8. Payment
After the entire auction closes, a notification is sent to each successful bidder listing the lot number and final bid amount of each winning bid. A buyer's premium of 17% will be added to each lot as well as applicable taxes which are determined by where the bidder resides.
Although we can accept money by e-transfer, bank wire, debit, cheque, or cash the standard method of payment is via the credit card on file with your account. Please let us know before the auction closes if you need to arrange an alternate method of payment.
Your credit card on file will be charged within one hour of the complete auction close.
If you have not made arrangements for an alternate method of payment before the auction closes and your credit card is charged, you may incur processing and administration fees to deal with refunds etc.
9. Pickups
Pickups will begin at the office on Monday, December 4 from 1-6PM.
Pick ups continue through the week on Tuesday - Friday from 10:30AM-5:30PM.
As it is very busy at the office after an auction, it is helpful, but not necessary, to contact us before you come.
This is especially true if your items are oversize or require special handling.
10. Packing and Shipping Outside of Calgary
We offer professional crating services.
If this is a holiday gift, please let us know as soon as possible after the auction and we'll do our best to get it to you sooner.
All packing and shipping preparation is done in-house at the expense of the purchaser, ie. you. We like to use Canada Post, Fedex, Artschifft (Western Canada art courier) and FYM Transport (National art courier).
Please contact us regarding your packing and shipping preferences. We are more than are happy to work with you to find the safest and most economical solutions.
403-541-9099
1739 10 Avenue SW
Calgary, AB T3C 0K1
mail@levisauctions.com
Office hours are Monday to Friday from 10:30-5:30PM (by appointment only)
METHODS OF PAYMENT
Payment Options
- Visa or Mastercard
- E-transfer
- cheque
- wire
- debit
- cash
There is no additional fee if you decide to pay with credit card.
PAYABLE ON ALL PURCHASES
Buyer's Premium and GST
The total purchase price payable by the Buyer for each lot will include a Buyer's Premium of 17% on the Hammer Price. 
Goods and Services Tax of 5% will be charged on the Hammer Price and Buyer's Premium on all lots for purchasers in Canada. HST will be charged to those buyers of applicable provinces.